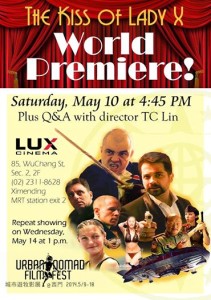 This is a busy week for T.C. Locke (a.k.a. T.C. Lin). There's an exhibition in Hangzhou, China of his photos. Camphor Press has just issued his terrific new book, Barbarian at the Gate: From the American Suburbs to the Taiwanese Army. And, what's more, his movie The Kiss of Lady X will have its premiere in Taipei's Ximending area this Saturday afternoon at 4:45 as part of the Urban Nomad Film Festival.
It should be a lot of fun. Everyone's welcome to attend. You can reserve your tickets online.
The film will also run in the festival on Wednesday, May 14, at one o'clock in the afternoon.